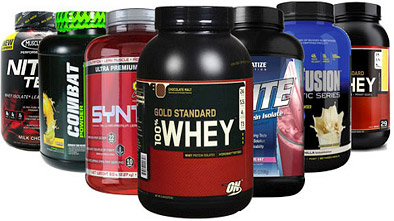 Healthy living is a growing trend. It is a good trend because it is critical to living healthy to avoid getting health problems that require medication and monthly doctor visits. Working out in addition to adding whey protein powder into your diet is a great start to living healthy.
Protein powder can supplement for a ton of nutritional value that regular food just doesn't offer.
Whey protein powder can have a positive effect on the results you are trying to achieve from working out. It can help your body produce additional muscle and help increase your strength when exercising.
There are some great choices out on the market for whey protein powder supplements.
Here is a list of the top 10 best whey protein powders reviewed in 2019 that are worth looking into adding to your workout regimen.
10. Optimum Nutrition 100% Whey Gold Standard
It is available in 22 delicious flavors including double rich chocolate, cookies and cream, and strawberry banana.

Available in 6 different sizes from 1 pound to 10 pounds, depending on your needs.

They even include a pancake recipe to try that includes the protein powder as the main ingredient.
Shaker cup is sold separately but at a great price.
9. BSN SYNTHA-6 Protein Powder
Eight delicious flavors and three different sizes available for purchase.

For all this nutritional value, all it takes is one scoop, at any time of the day.

It tastes like a milkshake.
No free shipping, unless you are an Amazon prime customer.
8. Pure Protein 100 % Whey Protein
It helps keep your immunities up to effectively fight illnesses.

This product can be mixed with water or milk, and still, taste great.

Great price with free shipping too.
Only available in two flavors and one size, but still a great product.
7. BulkSupplements CLEAN Whey Protein Powder
Completely unflavored, so it is easily mixed into water or your favorite exercise drink.

90% whey isolate powder, which contains the highest concentration of pure protein.

Helps control appetite, improve metabolism, and increase energy.
If you are used to the protein powder that tastes like a chocolate shake, this product is different as it has no taste.
6. Muscle Milk Genuine Protein Powder
Lactose-free, gluten-free, and has absolutely no artificial flavors.

Muscle Milk can be added to many things, such as supplement shakes, smoothies, or a favorite recipe.

Includes a fruit extract and stevia as ingredients.
E name Muscle Milk might turn some people off from trying it out because of the milk in the name, but it is lactose-free.
5. NOW Foods Whey Protein Isolate
Non-GMO and naturally unflavored.

It mixes instantly in water or liquid.

Great customer reviews and free shipping available.
Available in only one size.
4. Garden of Life RAW Organic Protein
Increases protein content for your meals and snacks.

High quality and best alternative to whey, soy and milk protein.

No fillers, artificial flavors, sweeteners, or preservatives.
Available in 4 different flavors, although it is only vanilla, chocolate, or unflavored.
3. Amazing Grass Green SuperFood
Available in6 great flavors and 6 convenient sizes.

The greens used for this powder are organically grown and picked at the most optimal time for the best nutrition.

The most convenient way to get a well-balanced diet every single day.
The one problem is that I now want to try all three formulas as they each serve a purpose in our diet.
2.
Legion Whey+ Chocolate Whey Isolate Protein Powder
It comes from small dairy farms in Ireland, which are known for their exceptionally high-quality milk.

It comes from hormone- and antibiotic-free cows.

It contains no artificial food dyes or other junk additives or fillers.

It contains no soy protein, gluten, GMOs, MSG, or hormones.

It's 100% naturally sweetened and flavored.

It's created using cold microfiltration and ultrafiltration technologies to produce undenatured protein.

It's not amino spiked.

It's downright delicious (many people say it's the best-tasting protein powder they've ever tried).
Available in about 20 different delicious flavors, such as chocolate, birthday cake, and banana creme.

This product can be set up for automatic delivery every month, two months, three months, and so on.

Best price and free shipping are available.
So many choices in flavors, difficult to choose which one to try first.