No running, no burpees, no wall balls. It's just you and the iron—and it's time to prove your mettle.
Most lifters would never admit it, but a lot of them like to imagine that they'd be into CrossFit. There's a certain appeal in the chalk, the shouting, and the permanent shirtlessness.
The only challenge? There's just so much running. And

rowing

. And jumping. But even if your idea of a workout is loading a

barbell

with as many plates as possible, don't worry. We've asked a few CrossFit experts for their heaviest, most hardcore workouts of the day. Creatine not included.
Every minute on the minute (EMOM), do:
3 Front squats
3 Push jerks
Rx weight:

185lbs for men and 135lbs for women
The first workout comes from Pat Vellner, who took fourth at the 2017 CrossFit Games, and it's guaranteed to make you fail—literally. You'll do these nine reps every minute on the minute until you can't anymore. If you aren't an elite CrossFitter, feel free to scale down the weight—ideally one that allows you to do the squats and push jerks without stopping.
2. Barbell Diane
As fast as possible, do
Deadlifts at 225lbs (155lbs for women)
Push press at 95lbs (65lbs for women)
Deadlifts at 225lbs (155lbs for women)
Push press at 95lbs (65lbs for women)
Deadlifts at 225lbs (155lbs for women)
Push press at 95lbs (65lbs for women)
This workout, which comes courtesy of former competitive CrossFitter and
CrossFit Virtuosity
owner Sam Orme, puts a twist on CrossFit's classic Diane WOD. Instead of programming
handstand pushups
, Orme's replaced them with push presses, so the only time you'll be upside-down is when you collapse onto the ground after the WOD.
3. King Kong
3 rounds, as fast as possible, of:
1 Deadlift at 455lbs (320lbs for women)
2 Muscle-ups
3 Squat cleans at 250lbs (175lbs for women)
4 Handstand pushups
This WOD, from
Dan Bailey
, a former Ohio University sprinter and five-time CrossFit Games competitor, is the pinnacle of hardcore lifting. It opens with a bar-bending deadlift and only gets harder from there. Feel free to scale down the weight (but make sure it's still heavy, since you're doing so few reps). If you can't do a handstand pushup, substitute with a push press.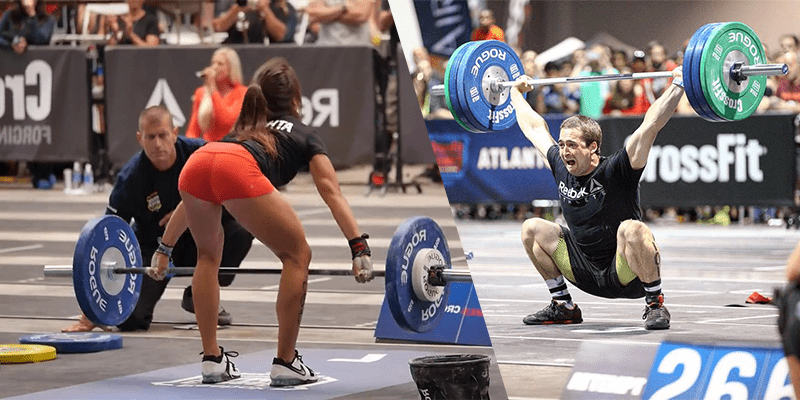 4. Isabel
As fast as possible:
30 snatches at 135lbs (95lbs for women)
Another Bailey recommendation, this Olympic-minded workout takes a little bit more lung capacity to be able to finish quickly. The pros can do all 30 without stopping, which is quite the achievement. Mat Fraser, the two-time Fittest Man on Earth, can do the heavy version (225lbs) in
under five minutes
. No shame if you're a little slower than that.
5. Linda
As fast as possible:
10-9-8-7-6-5-4-3-2-1 reps of the following triplet:
Deadlift at 150% of bodyweight
Bench press at 100% of bodyweight
Clean at 75% of bodyweight
This workout was recommended by most of the coaches we spoke to, including
Todd Brandon Morris
, a Level 2 CrossFit Coach and workout programmer for CrossFit NYC. "You're just here to grind? I got you," Morris says. "This workout has a push, pull, squat, and hinge. Stronger athletes should finish under 20 minutes."